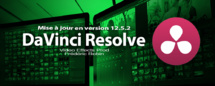 Blackmagic
vient d'annoncer sa mise à jour qu'ils présenteront à
l'IBC 2016
de son logiciel
DaVinci Resolve
en
version 12.5.2
.
Vous recherchez un article,
n'hésitez pas à vous rendre sur l'index du site
. Toutes les pages du site y sont référencées.
Blackmagic DaVinci Resolve 12.5.2 :
Nouveautés IBC 2016 : DaVinci Resolve version 12.5.2, une mise à jour qui prend en charge les métadonnées intégrées aux fichiers RAW des caméras Blackmagic URSA Mini disposant du nouveau système d'exploitation. Elle prend également en charge les tags liés aux espaces colorimétriques au cours de l'exportation vers QuickTime, les plug-ins Fusion Connect sur Linux et offre de nouvelles options de chutier intelligent ainsi que de nouveaux filtres sur la timeline, reposant sur les plug-ins OpenFX, dans la page Color et encore bien d'autres fonctionnalités.


Les nouveautés :
Added support for new URSA mini camera metadata in RAW files.
Added support for Color Space tags on QuickTime export.
Added support for Fusion Connecton Linux.
Added ability to filter timeline on Color Page based on clips that have OFX applied.
Added support for up to 24 audio channels on the Edit and Deliver Page.
Added support for manually enabling and disabling GPUs in Preferences.
Added support for Display Name on ALE export.
Added support for Apply Grade and Append Node Graph in the main menu.
Added the ability to clear tracking data for the current Power Window.
Added support for OpenCL on NVIDIA cards on Microsoft Windows.
Added ability to copy local grades to remote.
Added additional utility functions in DCTLs.
Added support for Date Created and Data Modified for timelines when using Smart Bins.

General Improvements
Improved 3D LUT generation to ignore any spatial and temporal corrections like Power Windows and OFX etc.
Improved accuracy for color conversion when outputting with ST.2084 gamma.
Improved accuracy of rendering Rec.2020 to ProRes/DNxHR.
Improved highlight control in ACES and HDR workflows.
Improved performance of ResolveFX Scanlines.
Improved reliability when loading projects with audio plugins.
Improved deliver preset switching to preserve the render location.
Opacity is now retained when converting a circular window to a Power Curve.
Addressed an issue with the 3D keyer on OS X 10.11.6.
Addressed an issue with Resolve displaying GPU Memory Full messages on AMD card on Microsoft Windows.
Addressed an issue incorrect UI indication for ProRes render cache, optimised media and remote rendering on Microsoft Windows.
Addressed an issue where importing a project into Resolve could cause a crash if there were unsaved render jobs.
Addressed an issue with applying stills and memories on a stero timeline.
Addressed an issue with decoing some MXF XDCAM MPEG2 clips.
Addressed an issue with Favourite transitions not being remembered.
Addressed an issue where printer lights keyboard shortcut did not work on Linux.
Addressed a file permissions issue when rendering EXR files.
General performance and stability improvements.
Autres articles :